Surge Protection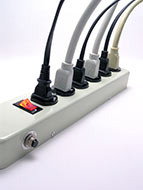 Surge protectors are designed to protect our valuable devices from electrical surges and other electrical damage. The last thing you want to do is purchase an expensive electrical device such as a TV or laptop and have it damaged. Surge protectors will help keep your expensive electrical devices from harm.
We all know the bulky surge protectors that plug in to an outlet. Installing an all-in-one surge protection system is almost always a better option. Built-in surge protection will keep your home looking tidy and keep the clutter of tangled cords at bay. An in-wall surge protector will be the best option for most people.
Arizona Electrical Solutions will be happy to give you an estimate on adding surge protection options. We have competitive pricing and serve all of Los Angeles.
Give us a call today.
(213) 297-7415

.