Electrical Outlets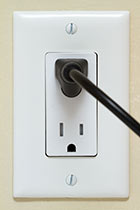 Looking for helping with your electrical outlets? Arizona Electrical Solutions of Los Angeles is the best company to call.
Our company has seen a lot of problems over the years with electrical outlets. Electrical issues with outlets usually fit into one of three categories: Poor craftsmanship, outdated electrical work, and haphazard electrical failures.
Poor Craftsmanship – Electrical work should only be performed by skilled and licensed electrical contractors. Time and time again we have seen electrical outlets installed in a manner that is not up-to-code. Some of the outlets we have seen installed put homes at risk of burning down and their lives at stake. You do not need to put your safety at risk to save money on electrical work. Calling a licensed electrician will save you money in the long run.
Outdated Electrical Work – California has done a great job at implementing electrical code standards that protect residents in the state of California from harm. One of the most common out-of-code electrical outlet issues we encounter is a lack of GFCI. GFCI's are a specific type of outlet that are designed to protect people from being electrocuted and are typically required in areas of the home where water is nearby. Los Angeles requires GFCI outlets in the following areas: Kitchens, bathrooms, garages, crawlspaces, unfinished basements, within 6 feet of laundry appliances, wet bar sinks, commercial and institutional kitchens, rooftops, outdoor public spaces, and accessory buildings. There are far too many homes in Los Angeles that are still not compliant with GFCI outlet codes. It is a relatively inexpensive and fast transition process to GFCI outlets and it can save your life.
Haphazard Electrical Failures – There are instances when the "hot wire" becomes disconnected from an electrical outlet. This can cause an arc-fault which can lead to an electrical fire. If you have an electrical outlet that stops working or several that stop working, you should call an electrician immediately. Honestly, sometimes electrical outlets and or GFCI's can wear out.
Additional Outlet Services
There are some homes that still only have some two prong outlets. These are simply not practical. If you are looking to have them upgraded to a three prong, it is a good decision. Some homes are not ground wired although they should be. If a home is not ground wired, we may be able to ground your outlets if the metal boxes in your walls are grounded. If your outlets are grounded we can ground some of your outlets directly to your breaker box. Metal boxes are grounded from the EMT that is run back to a grounded electrical panel. This method is typically less expensive than rewiring the house with a ground wire.
Call Us
If you need help with your electrical outlets, call Arizona Electrical Solutions of Los Angeles. We have the experienced electricians you need to handle all matters with electrical outlets. Our prices are competitive and we will be able to get your outlets up to a safe operating standard.
Give us a call. We can diagnose any electrical outlet issue.


Call

(213) 297-7415

.