Breakers & Fuses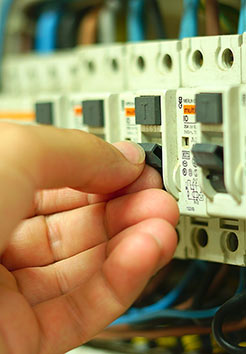 Does your power to part of your home or your entire home keep going out? There are a number of things that can cause a break to trip or a fuse to blow. Arizona Electrical Solutions of Los Angeles has the experience and equipment needed to help you determine what is causing the fuse or breaker to be tripped. Some of the circumstances that can cause a cirtuit breaker to be tripped can lead to electrical fires. If you simply continue to flip the tripped breaker on, you may be increasing the risk of a catastrophic electrical fire.
Arizona Electrical Solutions will help you identify the issue that is causing your breaker to be tripped. Our prices are competitive and our customer service is second to none. Our licensed electricians have the experience needed to save you a lot of time on electrical repairs which will in-turn save you money. Call us today to get help identifying the cause of your electrical issues.
Disclaimer: If you are a do-it-yourselfer do not attempt to identify the issue or repair it without shutting off the main breaker to your home. The electrical system in your home has enough electrical current to be deadly. Only take the initiative to do an electrical repair if you have the proper knowledge, skill set, experience, and equipment.
Speak with a professional at
(213) 297-7415

.