Recessed Lighting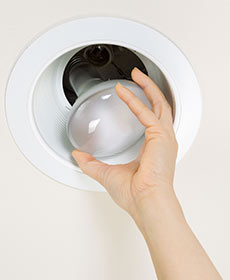 Want recessed lights installed in your home? Arizona Electrical Solutions of Los Angeles is the best company to work with for all of your recessed lighting needs.
Recessed lighting is one of the best ways to add additional lighting to a room. Recessed lighting is becoming more popular due to low energy, cost effective LED lights. They have always been a preferred lighting option. However, many people avoided recessed lights because the high wattage bulbs they required made them an uneconomical option.
Arizona Electrical Solutions of Los Angeles offers several types of recessed lighting options. Some of them include low voltage transformer 15v systems to LED Halogen fixtures. Recessed lighting bulbs are housed inside what are called cans. They are the cylindrical shaped metal pieces that the lighting elements are located within. The cans come in a number of different sizes from 2 inches, 6 inches, or larger.
Some people really underestimate the role lighting can play in creating an environment. The proper lighting design will set the tone of a room and make your home a more comfortable environment. Recessed lighting allows you to add extra lighting without having bulky lighting fixtures taking up valuable overhead space. Lower lighting makes the ceiling feel lower in your house. It has been proven that lower ceiling have a direct impact on a person's mental well-being.
Call Arizona Electrical Solutions of Los Angeles for all of your recessed lighting needs.
We look forward to helping you design, choose, and install your recessed lighting.
(213) 297-7415