3 Phase Electrical Panel and Equipment
3 Phase Electrical Panel & Equipment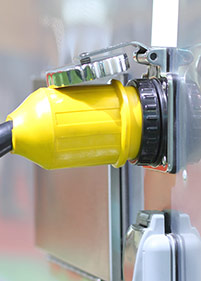 A 3 phase electrical system is a requirement in many of today's state of the art commercial and industrial buildings. With today's electrical requirements, single phase power just does not provide enough juice to provide reliability and efficiency that your company and its clients rely upon. We believe that if you are in need of a 3 phase electrical panel and system, our team of electricians at Arizona Electrical Solutions of Los Angeles are the best option in LA for getting it done. We will always have the job completed in a timely manner, on schedule, and in line with our estimate.
When installing a 3 phase electrical system, the vast majority of our clients choose from either 208V, 277V, or 480V. No matter your electrical requirement, we have the expertise to install every step-down transformer and switchgear necessary in your system. We are able to handle any commercial installation and our crew will design you a personalized 3 phase electrical system that will handle all of your company's needs. Many companies may take on a project but subcontract out the planning of it, and sometimes even the actual labor. We are trained and able to handle every step of your project, assuring you work personally with the team that will be putting your 3 phase electrical system together. By keeping everything in-house, we avoid communication mishaps and other situations that may arise from experiences where the work is divided up between multiple companies.
If you are considering a 3 phase electrical system, give us a call and schedule an inspection with us. We will be able to get a good idea of your current system and speak with you about what kind of requirements you want the final product to be able to handle. We complete every job with a personal care and we will not consider the job done until you are fully satisfied. We take into account all current building code requirements and we know that if given the chance to speak with you, you will have no problem going with the best 3 phase electrical system installation company in Los Angeles.
Call us today.
(213) 297-7415

.